Founded in 1895, the National Association of Manufacturers (NAM) is the largest manufacturing trade association in the United States, with 11,000 member companies. NAM has a long history of using advertising to push its ideals on the public. In the 1940's, NAM ran an advertising campaign criticizing the New Deal, with one such ad carrying the headline "The American Way is to the Right" over an image that implied government investment (a euphemism for the New Deal) would lead to Nazism and communism. Other ads were less direct, but promoted NAM's pro-business and anti-union goals.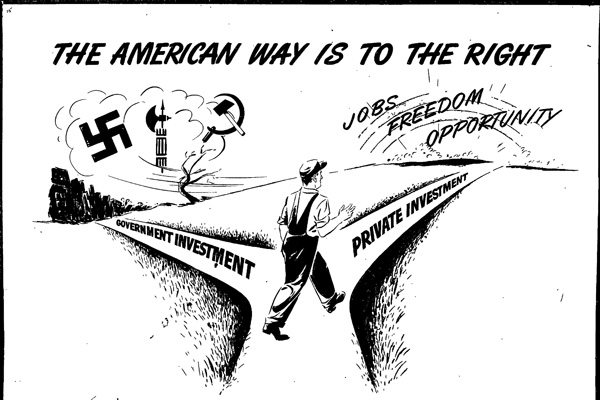 NAM has a long history of running front groups, PR and greenwashing campaigns on various environmental issues. In recent years, NAM seems to have shopped around for PR firms, using twelve different companies since 2008. For the most part, the PR companies involved in these campaigns are not well documented.
Examples of the front groups that have been uncovered include:
"Citizens for Sensible Control of Acid Rain – established and supported by electric utilities and mining companies to combat the 1986 Clean Air Act
Coalition for Vehicle Choice – created and supported by the auto industry to oppose increased fuel efficiency standards
Council for Solid Waste Solutions – established and supported by the plastics industry to promote the use of plastic containers
Global Climate Coalition – located in the headquarters of the National Association of Manufacturers, supported by oil, gas, and mining interests
Keep America Beautiful, Inc. – created and supported by the bottling and packaging industries to oppose bottle bills
National Wetlands Coalition – established and supported by the oil and gas and real estate industries to oppose wetlands protection."
Most recently, NAM launched the Manufacturers Accountability Project a PR project aiming to fight off climate liability lawsuits against oil and coal companies. It is not yet clear what, if any, PR company helped NAM launch this project.
---
DCI Group Contracts
DCI Group has been contracted by NAM for PR services since 2008, with a four-year break between 2009 and 2012, paying them a total of $12.7 million into 2017. DCI Group has been the largest consistent NAM contractor in recent years receiving, on average, $2.1 million per year from 2013 to 2017 for "consulting services."
Total: $12.7 million
---
FTI Contracts
In 2015, FTI Consulting got the largest single contract reported by NAM at $7.9 million for "media ads and services".
FTI Contract Total: $7.9 million
---
Target Enterprises Contracts
The Sunlight Foundation highlighted NAM's relationship with Target Enterprises in a 2012 article that revealed NAM paid the advertising firm to run campaign ads against Ohio Senator Sherrod Brown. NAM's 990 from that year show a $1.4m contract with Target Enterprises, for the purpose of "media ads & services."
Target Enterprises Total: $14.8 million
NAM 990s: 2008, 2009, 2010, 2011, 2012, 2013, 2014, 2015, 2016, 2017, 2018, 2019
Read more about NAM at Sourcewatch
Read more about NAM at DeSmog
---
Return to Trade Association PR spending main page.
Featured PR Posts from CIC